Hyderabad, the capital of Telangana, is known as India's food and cultural hub. With its Mughlai and Nizami influence, the food in the region has become so diversified that many consider Hyderabad to be the only place in India that offers every type of cuisine.
The famous street foods in Hyderabad are known for their delectable food and their long and illustrious history. Some street food stalls have been around for generations, dating back to the 18th century. The aroma wafting through the street will compel you to try the different flavors that excite your taste buds. In addition, the hospitality of the stall owners will add a touch of homeliness to your entire experience.
It will not be wrong to say that Hyderabad is a food haven for those who travel to distant places to experience new and exotic flavors and consider food an essential part of their traveling experience.
There are countless options to choose from, so to make things easier for you, here are the ten famous street foods in Hyderabad.
Famous Street Foods in Hyderabad
Here is a list of the most popular street foods in Hyderabad that you must certainly try.
1. Ram Ki Bandi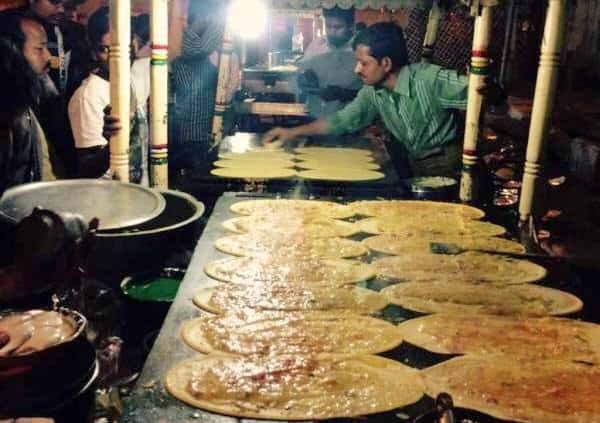 Ram Ki Bandi is perhaps the most famous place to start your day with a mouthwatering and fulfilling breakfast. This restaurant may not look like a fancy five-star eatery, but the customers arrive in their Audis and BMWs; that's how delicious Ram Ki Bandi is. What started as a small stall in 1989 is now one of the most visited places in the city. Ram Ki Bandi's most famous item is Dosa. Other popular items on the breakfast menu include Teenmaar – a delicious mix of paneer, butter, cheese, and Tawa idli.
Timing: The place opens for business at 3:00 am and keeps serving its customers till 8-9 am
Location: Jambagh Road, Mozam Jahi Market Circle, Near Karachi Bakery, Hyderabad.
2. Mohammedia Shawarma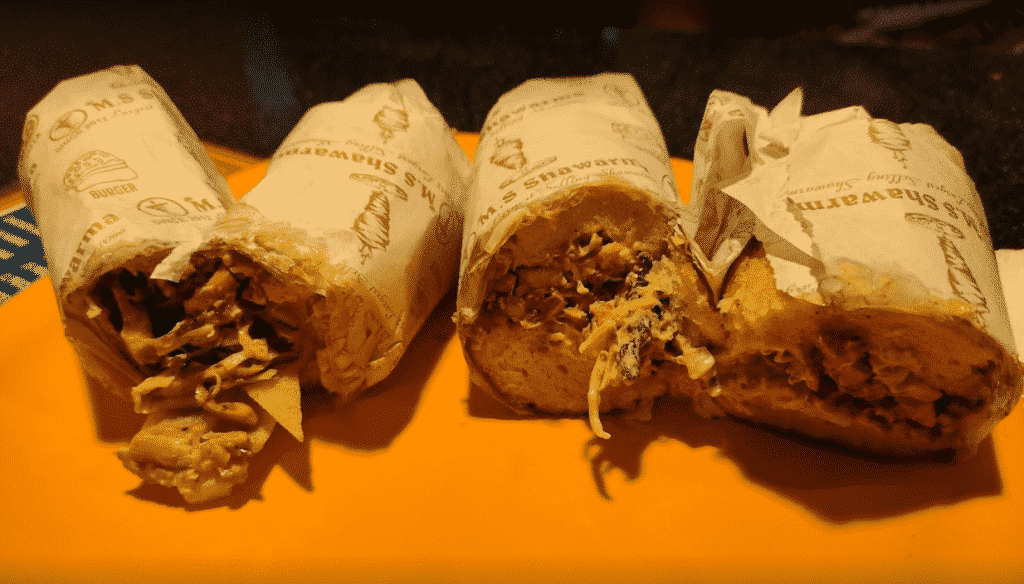 At the heart of every food street in an Indian city is a shawarma place, and in Hyderabad, it is Mohammedia Shawarma. As the name suggests, the specialty of this Arabic cuisine is its extraordinarily juicy and delicious shawarma, which is available in a wide variety of flavor combinations. In addition to that, the restaurant also offers some of the tastiest grilled food in town.
Timing: You can grab a bite at Mohammedia Shawarma from anywhere between 11:00 am to 11:30 pm. ess at 3:00 am and keeps serving its customers till 8-9 am
Location: Shop No. 13-6-437/A/2/5, Khadar Bagh Road, Opposite Oriental Bank, Mehdipatnam, Hyderabad.
3. Famous Ice Cream
Famous Ice Cream has been, without a doubt, one of the most popular dessert places in Hyderabad for more than 65 years now. Despite all the international brands available, this place still churns ice cream by hand and offers the most traditional flavors. You can order and enjoy three different styles of ice cream that include stick, cone, and pot. One of the most famous dishes of this place is its fruit salad ordered with a preferred flavor of ice cream; the combination is trendy among Famous Ice Cream's customers.
Timing: The place remains open at mid-day and sells until 11:00 pm.
Location: 3-4-350, Nampally Station Road, Inside Clock Tower, Mozzamjahi Market, Abids, Hyderabad.
4. Sardarji's Traditional Punjabi Palate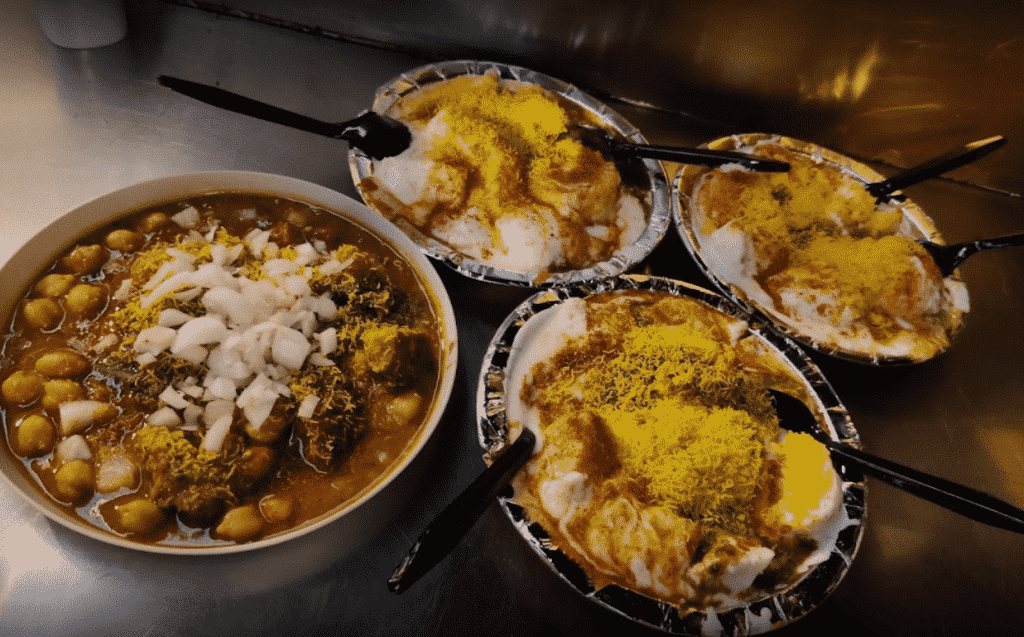 If you are looking for food with authentic Punjabi "Tarka," Sardarji's Traditional Punjabi Palate is the place to go. The Dhaba-styled restaurant is a delicious mix of Punjabi and Indian cuisines and offers a variety of tasty snacks. The site is particularly famous for its chaat that goes perfectly well with a chilled glass of lassi. Other popular items include Moong Daal Kachori, samosa, Kadai paneer, aloo Tikki, and Bhature.
Timing: Sardarji's usually open from mid-day to 3:30 pm and then reopens at 7:00 pm and remains in business till 10:30 pm.
Location: Old Mumbai Road, Beside HDFC Bank, Indira Nagar, Gachibowli, Hyderabad.
5. Siddique Kebab Center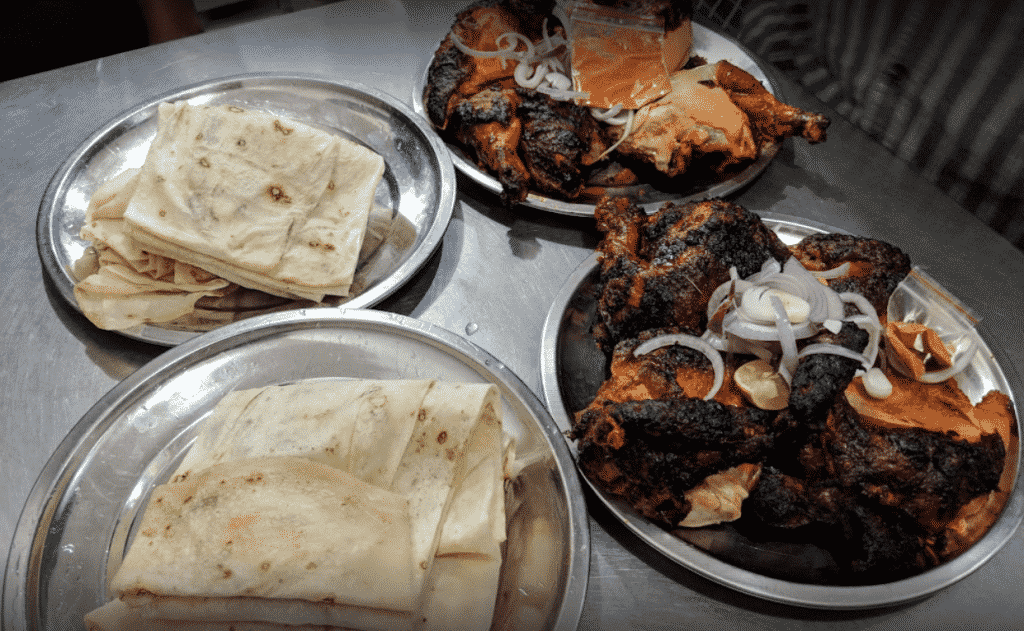 This non-veg restaurant is famous for making unbelievably scrumptious Mughlai food that hits all the right notes in your mouth. This place is renowned for its Lasooni and Reshmi seekh kebabs. However, kebabs are not the only item on the menu; the restaurant also offers some of the tastiest Arabic chops and tandoori and fried chicken in the city. The cuisine is a combination of Mughlai and North-Indian.
Timing: Siddique Kebab Center will serve you food anywhere between 1:00 pm to 11:00 pm.
Location: Plot No. 157, Gachibowli – Miyapur Road, Opposite Harsha Toyota, Kothaguda Circle, Kothaguda, Hyderabad.
6. Nimrah Café and Bakery
Nimrah Café and Bakery is one of the city's most iconic cafés and a perfect place for chai lovers. The café's most famous item is its Irani chai. However, it also offers a fantastic variety of biscuits, making a trendy chai-biscuit combination with Irani Chai. You can also find a wide variety of cakes in the bakery.
Timing: You can enjoy your cup of tea anywhere between 4:00 am to 11:00 pm.
Location: #20-4-1238/39, Beside Mecca Masjid, Charminar, Hyderabad.
7. 13 Dhaba
If you love Punjabi food, then you must visit 13 Dhaba. The place is known for its authentic Punjabi flavors and the incredible variety of Punjabi dishes. Due to the quantity of food served and their pricing, the Dhaba is a favorite among locals and travelers alike. The menu offers a great variety of rice dishes such as rajma rice, paneer rice, dal makhnee rice, and kadhi pakora rice. 13 Dhaba is famous and loved for its type of parathas and naans it serves.
Timing: 13 Dhaba remains open from 12:15 pm till 10:30 pm.
Location: 1-72/3A, Andhra Bank Lane, Near HP Petrol Pump, Gachibowli, Hyderabad.
8. Govind Ki Bandi
Govind Ki Bandi is another excellent breakfast place; it is perfect for looking for typical and authentic Hyderabadi flavors. The cuisine is South-Indian and offers a great breakfast menu that features almost all the famous Hyderabadi items; however, it is particularly renowned for its Spot Idli, Crunchi Wada, and Govind Cheese Dosa.
Timing: You can visit Govind Ki Bandi anywhere between 6:00 am to 2:00 pm.
Location: Gulzar House, Urdu Galli, Hira Moti Complex, Char Kaman, Ghansi Bazaar, Charminar, Hyderabad.
9. Maharaja Chaat
Anyone who has ever been to India will tell you that Indians love their chapatti chaat no matter where they live. And as for Hyderabad, chaat is one of the most famous street foods in the city, and one of the best places to get it is Maharaja Chaat. This place is legendary for its wide range of Indian snacks such as pani puri, bhel puri, and aloo toast. Their Masala Pav Bhaji is perhaps the most wanted item on the list.
Timing: The chaat place remains open from 3:30 pm to 10:30 pm. ere between 6:00 am to 2:00 pm.
Location: Rd Number 1, Jubilee Hills, Hyderabad.
10. Mayur Pan House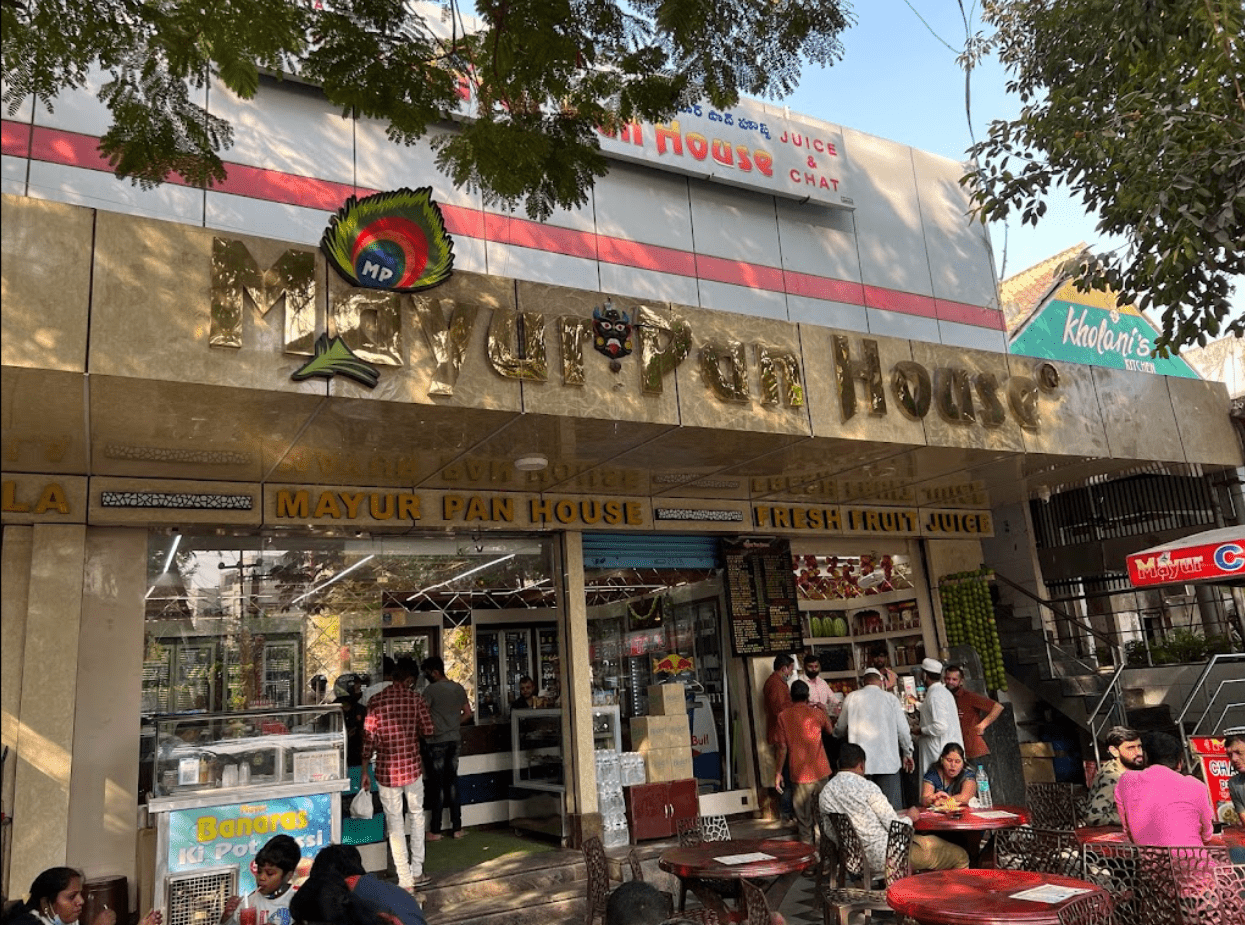 When you are in India, your food journey cannot reach its pinnacle without eating a pan, and what better place to get it than the famous Mayur Pan House. In addition to its signature dishpan, the site sells a variety of other sweet and savory dishes. It is ideal to grab a late-night sandwich and then round it off with a pan. Its desserts featuring pan are perhaps among the most unique dishes you will ever taste. This hot spot for food is famous for its chocolate paan, laddu pan, and ice goal.
Timing: Mayur Pan House keeps its business running from 10 in the morning till 11:00 pm.
Location: Needs Arcade, 4-3-548, 14, Tilak Rd, Ramkoti, Sultan Bazar, Abids, Hyderabad.
Conclusion
Remember, we just talked about only ten famous names; the street food options in Hyderabad are countless. Every Dhaba or café offers something so special that you won't stop until you have tried them all. And if you already have a favorite that is not on the list, don't forget to tell us about it in the comments.
Image Sources: Facebook, Instagram