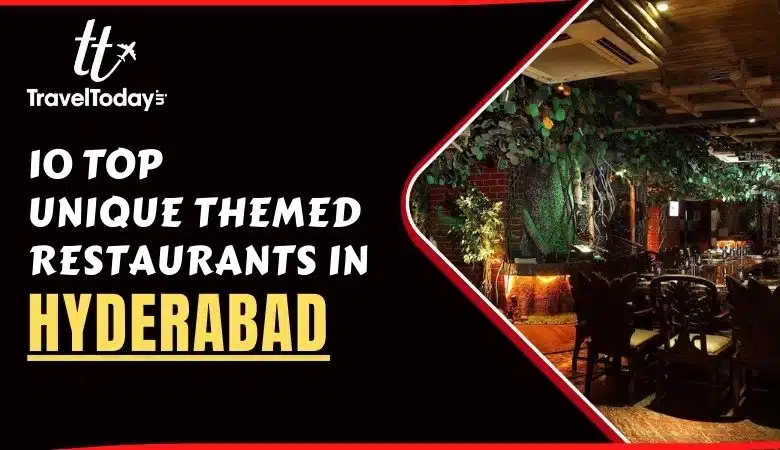 Hyderabad is home to various restaurants and cafés, guaranteed to wow with their delicious cuisine, friendly staff, and relaxing environments. Since the past few years, there have been a few unique themed restaurants in Hyderabad. Each one has been decorated creatively to make people interested as soon as they walk in. The décor of a theme restaurant is only an attempt to attract customers with a specific theme.
Now more than ever, businesses in the food service industry must think outside the box to attract customers. Nevertheless, there are a select few restaurants in Hyderabad that are must-visits.
Unique Themed Restaurants in Hyderabad
If you are looking for some best theme restaurants in Hyderabad that will surprise you with their original decor, then we have created a list of restaurants that you absolutely must visit.
1. Ohri's Gufaa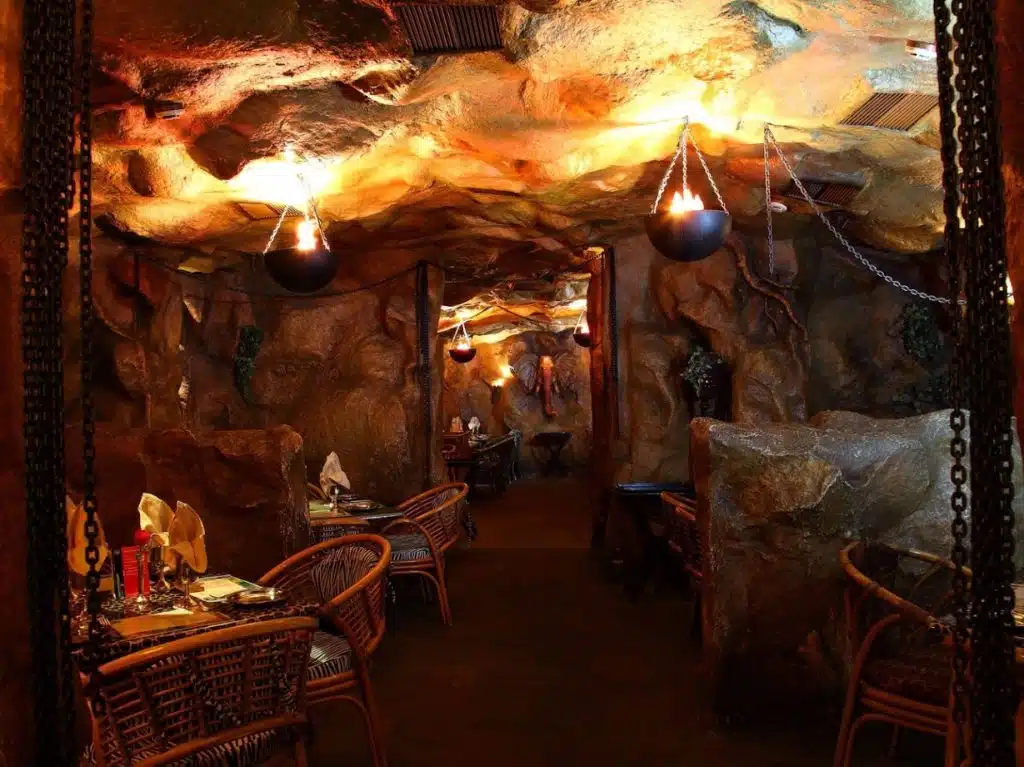 Ohri's Gufaa is one of the city's oldest and most well-known best themed restaurants. The restaurant's interior design is reminiscent of the stone era and cave interior, with its rough walls and dark lighting.
The cane furniture does an outstanding job of blending in with the rest of the design. It is highly recommended that guests give this restaurant a go because the staff is dressed up as hunters, they are kind, and the cuisine is both tasty and reasonably priced.
Location: 5-9-30/16-20, opposite Old Gandhi Medical College, Basheer Bagh, Hyderabad, Telangana 500029
Timings: 11:30 AM to 3:30 PM and 7:00 PM to 11:30 PM
2. Platform 65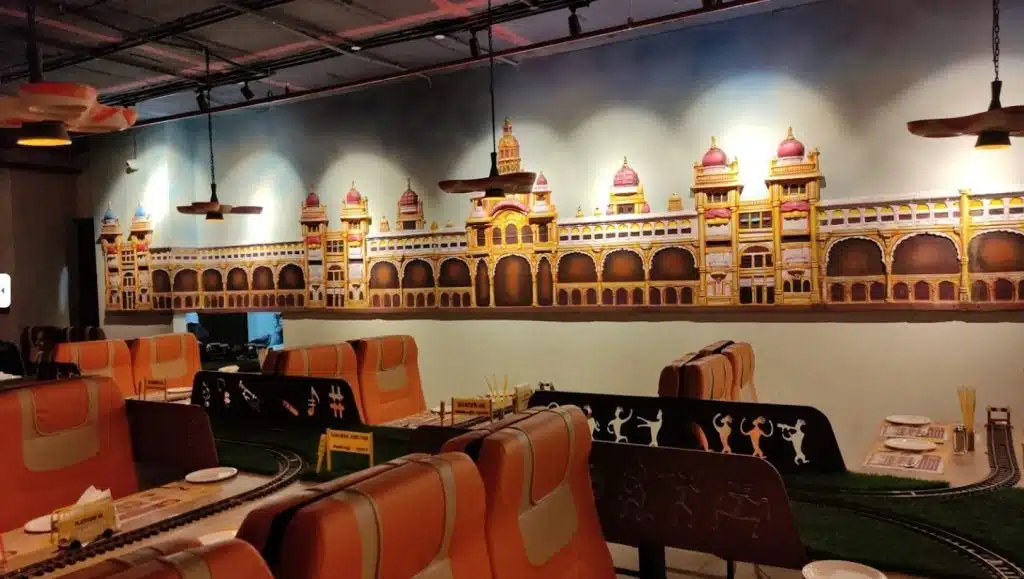 Platform 65 is a good place, even if its name is strange. This train themed restaurant in Hyderabad has received excellent reviews for how creatively it is set up and decorated. When you walk into the restaurant, you'll be surprised by how much the chairs look like train seats.
At each table, the names of train stations are written next to tiny tracks. The food is brought to your table on toy trains running tracks from the kitchen. The trains can carry up to two meals at once, and when they arrive at a customer's station, a green light flashes on the toy traffic controller.
Platform 65 is a restaurant that serves both vegetarian and non-vegetarian dishes. However, if you are a vegetarian lover, do check out our post about the best pure vegetarian restaurants in Hyderabad.
On their long list of popular dishes, you can find options like the Ulavacharu Chicken, Andhra Kodi Pulao, Gongura Chicken Biryani, Andhra Chicken Curry, Pachi Mirchi Kodi Kebab, Apollo Fish, and Double Ka Meetha.
Location: PNR EMPIRE, Hmt Sathavahana Nagar, Kukatpally, Hyderabad, Telangana 500072
Timings: 11:30 AM to 11:00 PM
3. Journey 1853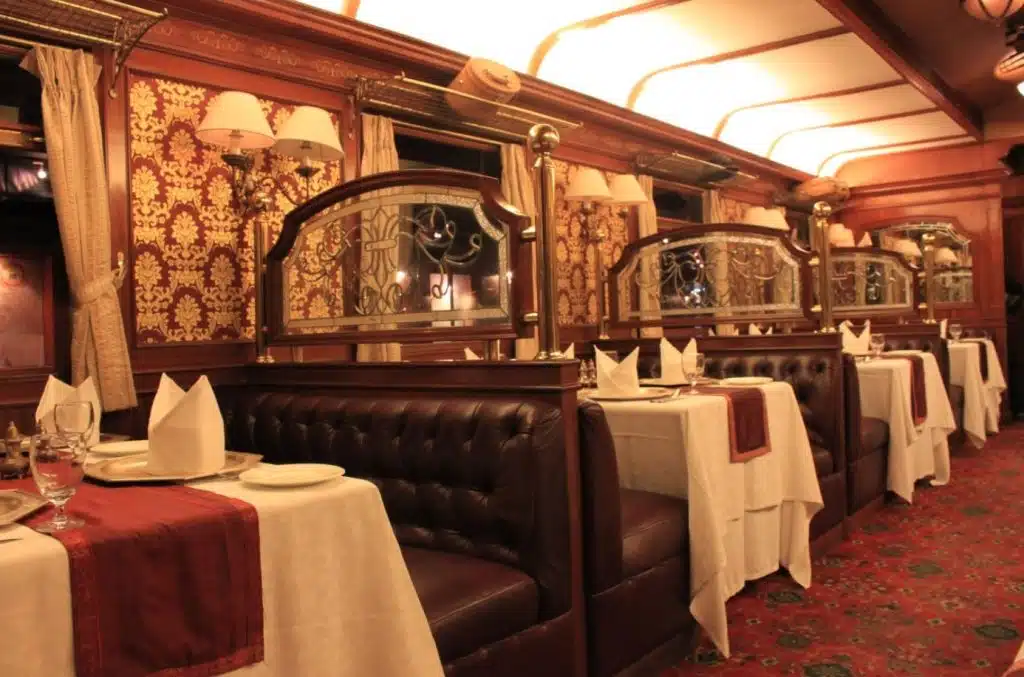 The restaurant is called Journey 1853 or Sahib Sindh Sultan. It takes you back to 1853. Journey 1853 is a train themed restaurant that gives you a unique dining experience in an old pre-independence train coach.
The restaurant provides a rich dining experience with a mix of traditions of Indian royalty and the British Raj. When it comes to the dining area, there are two options available the first is, of course, dining inside this posh historic train, and the other option is to dine on the platform area. I recommend you eat inside the train to get the right experience. The platform area is dark and should be taken only if the train is fully occupied.
Journey 1853 specializes in north Indian food with dish names coined uniquely like Murg Malai Chops a la Dalhousie and Malgaadi Handi Chicken. The other remarkable experience of this unique restaurant is the ambiance and the fine details that have gone into its interiors.
Location: 5th Floor, City Center Mall, Road 1, Banjara Hills, Hyderabad, Telangana 500034
Timings: 12:00 PM to 10:30 PM
4. Ohri's Serengati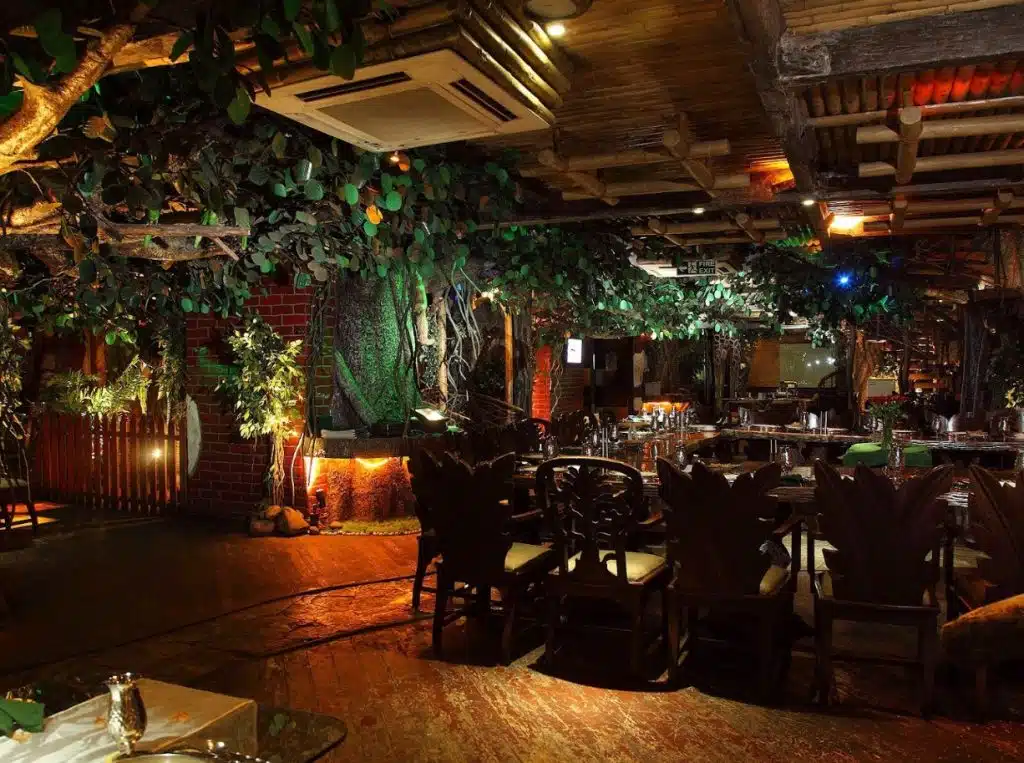 Ohri's Serengeti is well-known for having a jungle-theme restaurant, You'll hear jungle music playing in the background, and the servers will be dressed in costumes appropriate for the jungle. The restaurant will make the experience enjoyable for all guests, especially children. The cuisine is satisfying to eat in terms of its flavor and overall quality.
The restaurant has an excellent environment and will provide you with an enjoyable experience overall. It is unique compared to anything else and has a fantastic flavor. So if you want to eat in a relaxing environment and have a delicious meal, this is the best-themed restaurant you should visit.
Ohri's Serengeti serves various delicious food and drinks, including the ever-popular Lahori Murgh Tikka, Rogan Josh Curry, Nihari Gosht, Roti Ki Tokri, Paneer Lababadar, and Orange Mojito.
Location: Door No. 8-2-682/3, Ohri's Banjara, Road No. 12, Banjara Hills, Hyderabad, Telangana 500034
Timings: 12:30 PM to 3:30 PM and 7:00 PM to 11:30 PM
5. The Fisherman's Wharf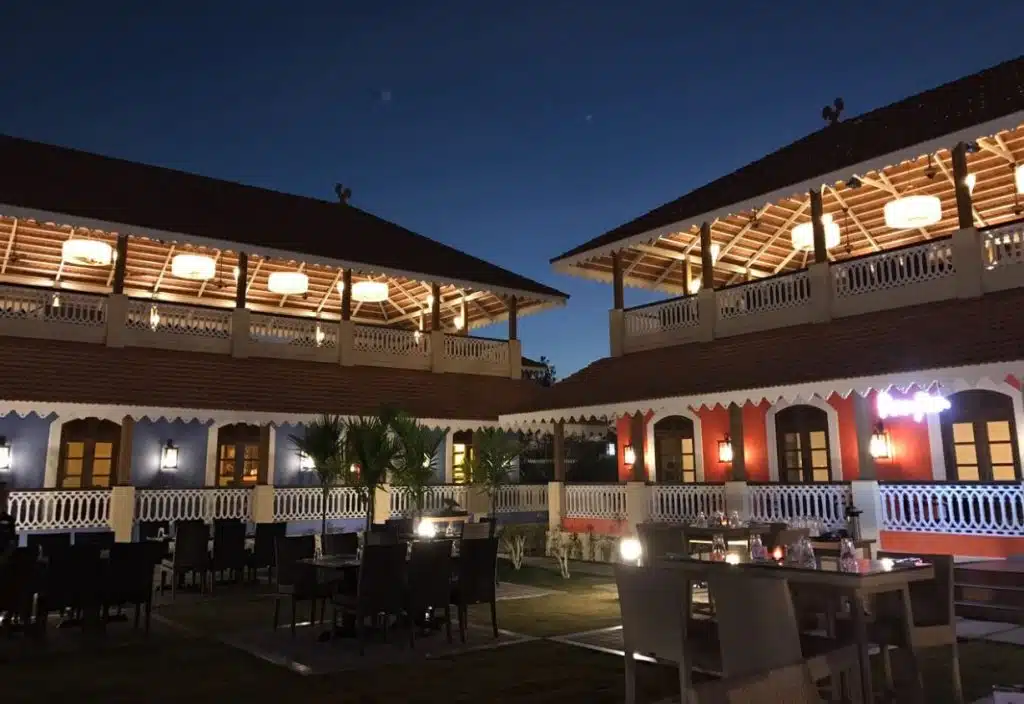 Do you find yourself longing for the charming Portuguese mansions or the little beach shacks of Goa? To taste Goan food and culture while in Hyderabad, Fisherman's Wharf is the place to go.
It is a restaurant in Gachibowli that offers a delicious lunch with friends or family because of its vast dining space, which includes indoor and outdoor seats.
At The Fisherman's Wharf, some of the foods that are most highly suggested for you to eat are the seafood dishes and the Goan specialties. So it would be best if you took advantage of them.
Location: 304, Nehru Outer Ring Road, Financial District, Gachibowli, Hyderabad, Telangana 500032
Timings: 12:00 PM to 11:00 PM
6. Ohri's Silver Metro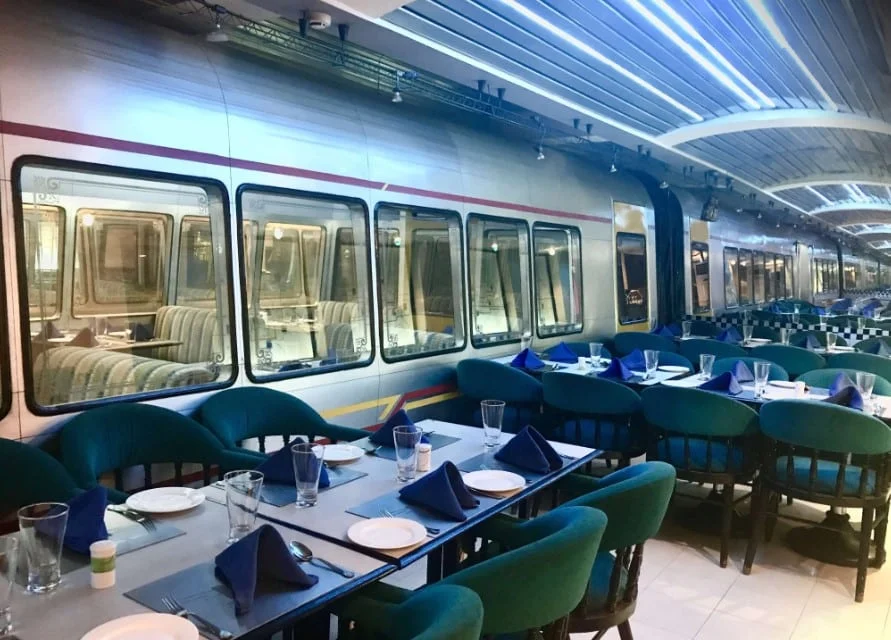 Usually, a metro train only takes people from place to place, but what if you could enjoy a meal in a restaurant designed to look like a metro train?
Using this inspiration, some made a restaurant where customers sit in the compartments and eat their food. The restaurant owners made train compartments and fake platforms to attract customers.
This metro themed restaurant is the best-themed restaurant in Hyderabad if you're looking for a great place to chill out with friends or family for a nice lunch.
Some of the most popular dishes from this metro themed restaurant are Methi Chaman, Paneer Tikka, Mutton Rogan Josh, and Fish Tikka Masala.
Location: 5-9-30/16-20, opposite Old Gandhi Medical College, Basheer Bagh, Hyderabad, Telangana 5000292
Timings: 11:30 AM to 3:30 PM and 7:00 PM to 11:30 PM
7. The Grand Trunk Road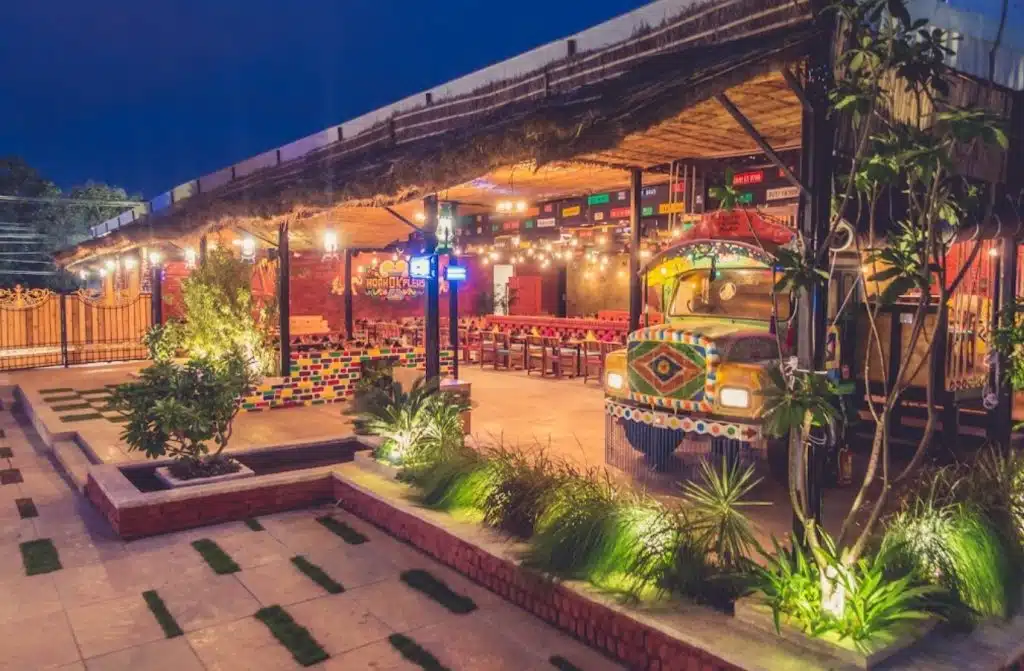 The Grand Trunk Road in Madhapur is one of the unique restaurants in Hyderabad. If you enjoy going to places with youthful energy and vivid décor, you should consider eating at this restaurant.
However, you won't be able to resist the urge to go the open road after looking at the spectacular design, which includes the permanent display of a truck and artful graffiti on the walls.
The extensive menu at The Grand Trunk Road features some of the most mouthwatering Mughlai and North Indian specialties, sure to leave a lasting impression on your taste buds.
You have to taste some of The Grand Trunk Road's best-selling delicacies, such as Soya Chaap Masala, Laal Maas, Murgh Lahori, Saag Gosht, and Rabri Jalebi.
Location: 1-98/8/9/A, VIP Hills, Silicon Valley, Image Gardens Rd, Jaihind Enclave, Madhapur, Telangana 500081
Timings: 12:00 PM to 3:15 PM and 7:00 PM to 11:00 PM
8. Cloud Dining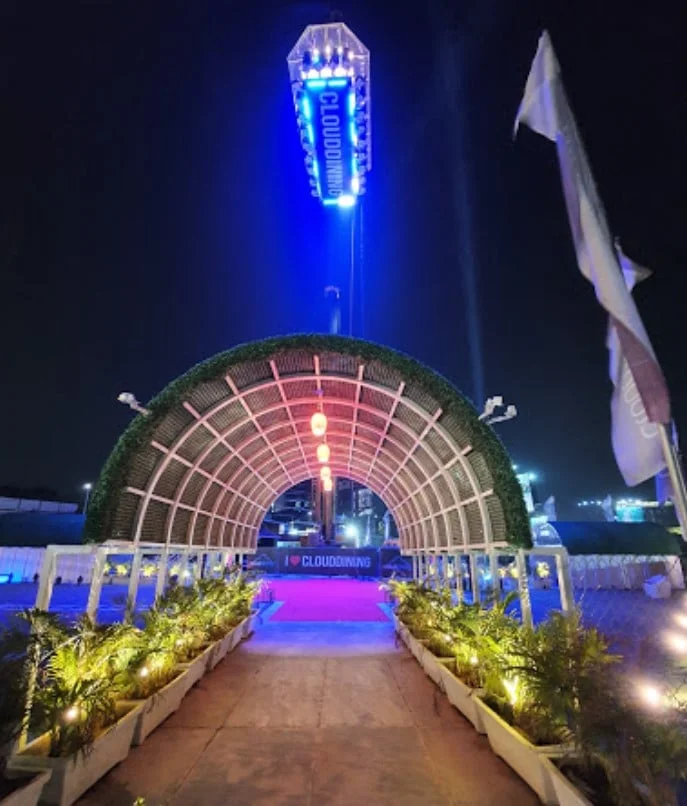 You want to enjoy lunch, but you also want it to thrill you and have a lovely view, right? The solution is called Cloud Dining.
Two adventurists created a restaurant with a sky dining theme. This once-in-a-lifetime opportunity demonstrates how enchanted it can be to "eat with the stars."
It is 150 feet above the ground and has a high-quality metal frame platform and safety belts for safety, but what makes this seat even more fun is that you can turn it 180 degrees, giving you a great view of the city below.
One of the unique ways to eat is at Cloud Dining, where a crane lifts the table.
Location: Survey No: 68 ABC, Hitech City Rd, opposite Shilparamam, HITEC City, Madhapur, Telangana 500081
Timings: 5:30 PM to 11:30 PM
9. Robo Kitchen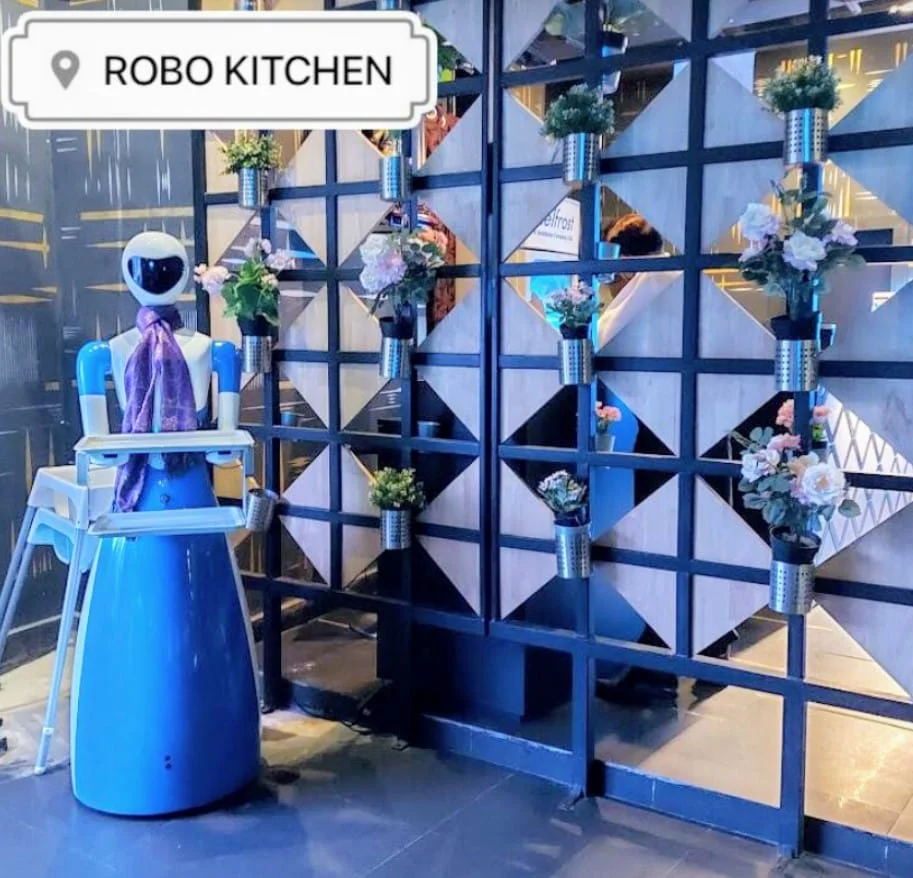 Have you ever considered how you may react and what you would do if you met a robot?
The Robo Kitchen is staffed with a group of white and blue robots that serve customers at the touch of a button. All a customer needs to do to place an order is to use the electronic gadget given by the restaurant, and the serving robots will bring the food to their table.
Their food menu has some of the most popular indian and chinese delicacies. Manchow Soup, Dragon Broccoli, Kadhai Paneer, Achari Chicken, Chicken 65, Schezwan Fish, and Thai Curry are some dishes you should try at Robo Kitchen.
Location: 2nd Floor, alcazar mall, Rd Number 36, Jubilee Hills, Hyderabad, Telangana 500033
Timings: 12:30 PM to 3:00 PM and 7:00 PM to 11:00 PM
10. Beach House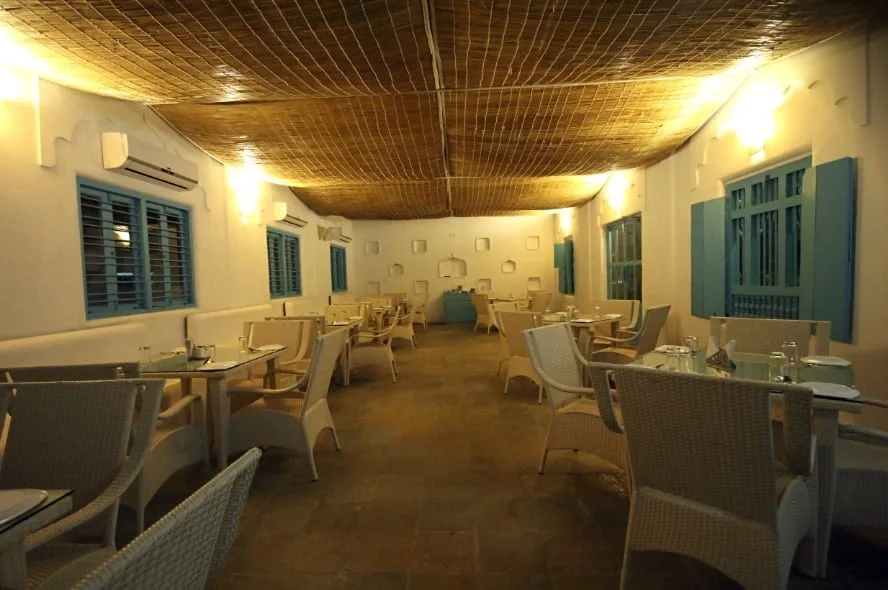 Short on time to make it to the shore? That's fine since you can bring the beach to yourself.
The beach lovers of Hyderabad can't wait to eat at Beach House, a restaurant with a fun and thrilling beach theme. If you're in Hyderabad, love the beach, or want a unique eating experience, you should check out this beach themed restaurant.
The beachy vibe is accomplished through the décor. Unlike other beach shacks, this one includes a fully equipped bar and has some impressive bar menu which serves a wide range of cuisines, including Chinese, North Indian, Continental, and Seafood.
Location: Madhapur, Plot no 257 & 258, Kavuri Hills Rd, Hyderabad, Telangana 500081
Timings: 12:00 PM to 11:00 PM
Conclusion
If you have not been to any of Hyderabad's restaurants built around a particular theme, we strongly suggest you do so to have a great dining experience. So please use the comment box below to tell us about the city's best themed restaurant you enjoy visiting the most.