5 Best Places Around Hyderabad for Weekend Trip Within 300 Kms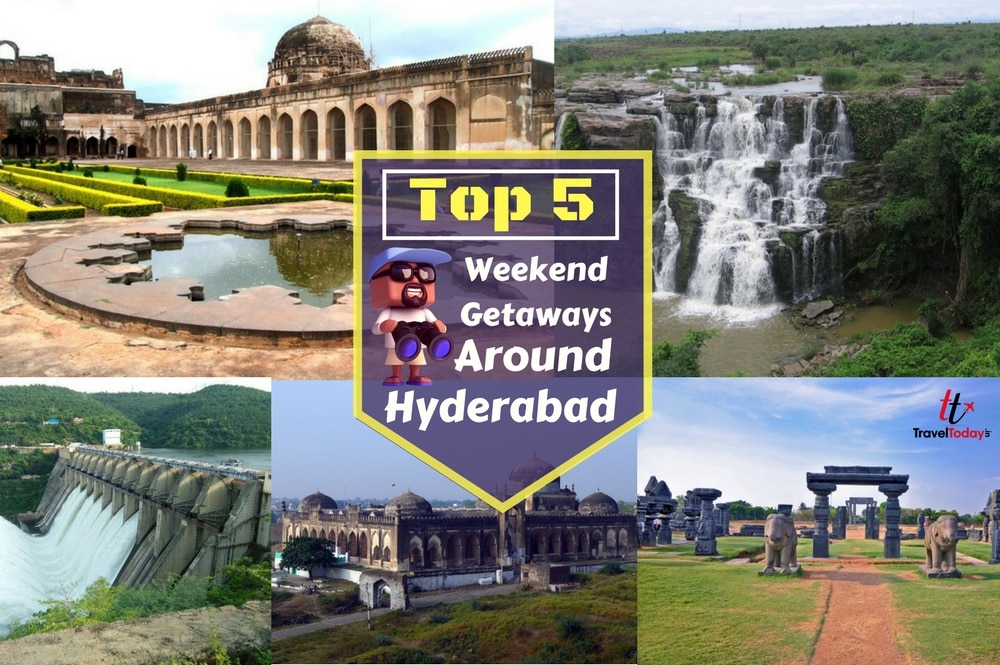 Southern India is known for its exotic culture, rich history, and great hospitality and there in the heart of South lies the majestic city of Hyderabad, the capital of Telangana State. Even though the city itself is full of life and culture, but it would be almost cruel to visit South and not explore it. Both locals and travelers stationed in Hyderabad can plan memorable and exciting weekend trips to nearby locations and experience the scenic beauty and warmth of the entire region. To help you decide where to go we have put together a list of top 5 weekend getaways around Hyderabad.
After all, there is nothing better than a full tank, great song playlist, a road trip with your best friends or family and a wonderful destination!
When you are planning a road trip just for the weekend the distance is the most important factor. After all, you do not want to spend most of your weekend just traveling, but, since it is a road trip you need to drive a little too! So, a drive just under 400 kilometers seems about right!
But before you pack your bags, you should plan carefully to have a perfect and relaxing weekend.
Here is a little help from us:
Pack Light: Too much luggage can only cause stress of packing and unpacking; pack the absolute essentials so you can travel light and have a good time.
Fill the snack basket: Yes! This one is very important; always pack some snacks for the road. This will help you save time that you would otherwise have to spend on making pit stops whenever you get hungry. Remember, it's just the weekend so do not waste an entire day traveling.
Do some research and have an itinerary: It is best to find out as much as you can about the city you plan to visit. You should find out all the tourist and famous spots such as shopping malls, museums, parks, best restaurants, and theatres etc. By planning your trip carefully in advance you can make the most of your limited time.
Book your accommodation in advance: When you plan to spend the entire weekend, it is best to find a hotel and book rooms in advance. You should ask the hotel management about all the facilities your hotel provides so you do not pack unnecessary items. To avoid any complications, you should also take your identification documents with you.
Here's the list that will get you to start planning your travel today!
1. Gulbarga
Officially known as Kalaburagi, the city of Gulbarga is located 230 km away from Hyderabad. The culturally and historically rich city was once under the Nizami dynasty influence. Gulbarga was included in the Dehli Sultanate before becoming a part of the Hyderabad State after its establishment in 18thcentury. It finally became a district in the state of Karnataka.
Places To Visit Near Gulbarga
Due to its religious history and landmarks, the city stands proudly among other "Sufi cities" and offers peace and serenity. The beautifully preserved architecture will take you back in time and leave you mesmerized. Some of the most famous tourist attractions include:
1. The glorious Jama Masjid (mosque):
Built by Mohammad Shah, the mosque is famous for its unique architecture and grandeur. The spacious interior of the mosque offers peace and tranquillity.
2. Buddha Vihar:
The place is sacred where people come to find peace and spirituality. Located about 6 km away from Gulbarga, Buddha Vihar is a beautiful depiction of Buddhist architecture.
3. Khawaja Banda Nawaz Dargah:
The Dargah is an amazing experience that takes you to a different world; the peace and holiness of the place bind together all faiths and religions. The Dargah is most popular attractions in Gulbarga and It has been built in the memory of Sufi saint Hazrat Khawaja Banda Nawaz Gesudaraz.
4. Gulbarga Fort:
The beautiful fort showcases the elegance of Persian architecture and is a sight to be seen. Its existence is centuries old and has been a huge attraction for tourists over the years.
5. The Haft Gumbaz Tomb: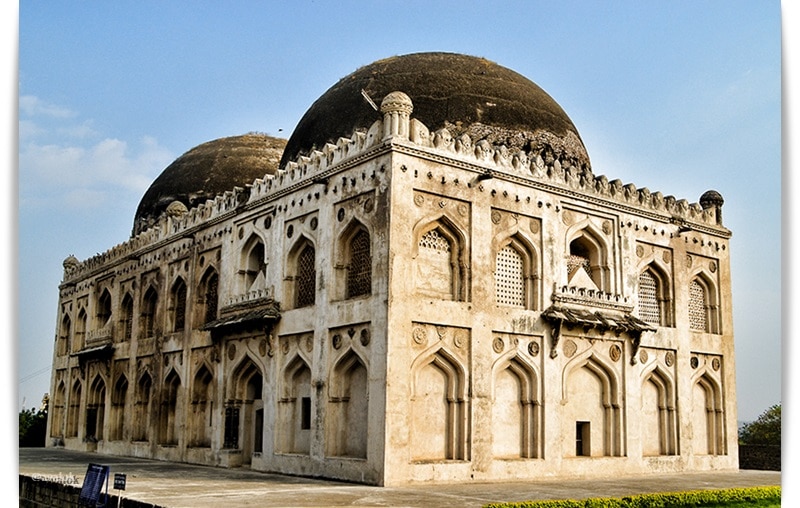 The beautifully constructed building has seven tombs for which it is also commonly known as "saat" (seven). The small gate within the Tomb opens into a shrine complex. The architecture of all seven tombs is different from each other. You can take a stroll in the beautifully maintained gardens on both sides of the Tomb and experience the grandeur of South Indian history.
6. Shri Dattatreya Temple:
A sacred temple that beautifully combines religion and culture. Built in the memory of Lord Dattatreya, the temple is one of the most visited places in the city. The main temple is believed to have been built in the 14th century.
7. Chandrampalli Dam:
Surrounded by the Chincholi forest and built across Bhima River, the dam is at the center of a lush green landscape. The location is great for picnics and peaceful walks.
Places to Eat
Gulbarga is a great place for foodies; when you are in town do not forget to taste the city's very famous Hoorana Holige (a perfect delight for your sweet tooth); you must also try Gulbargavi Tahari (rice delicacy), Maalpuri and Gulbarga kachori among other food items. There are also many restaurants where you can find cuisines from all across the globe. Here are a few names you must not miss:
Radha's Kitchen: Located on the first floor of Kandoor Mall, Thimapuri Circle, Radha's Kitchen offers vegetarian food and is known for its organic spices.
Maikhana Bar and Restaurant: Located in Kailash Nagar, Maikhana is a great place for delicious food and happy hour. You can get the best of Indian cuisine at this delightful eatery. The place is great for friends to get together and have fun.
Al-Makki Arabian Food: Located in Hussain Icon Hub Complex, this restaurant is known for its Arabian cuisine.
Places to Shop
Here are some of the famous shopping malls in Gulbarga:
Shardha Mall: Located in Chakkar Katta, Maktampura.
City Center: Located on Super Market Main Road, Halbarga.
Where to Stay
You can find both affordable and luxurious accommodation in the city. Those who are traveling on a budget can contact the following hotels:
Hotel Aditya: The hotel is located opposite to Public Garden, Jagat.
Hotel Pariwar: The hotel is located opposite to GESCOM Office on Station road.
Lumbini's Grand Hotel: It is located close to Rang Mandir on Public Garden road.
---
2. Warangal
The city is located about 143 km away from Hyderabad and is Warangal Urban District's headquarters and is Telangana's second biggest city. Warangal's existence is centuries old and showcases a rich history of Andhra Desa clan. Among its rulers was Rani Radrama Devi, who was the only woman to have ever ruled a Telugu region.
Places To Visit Near Warangal
The city is known for its beautiful temples, shrines, and forts, which have been well preserved and attract a huge number of tourists every year. Warangal will leave you awestruck with its beautiful landscape, which is rich in flora and fauna, stunning lakes and breathtaking architecture. Some of the attractions include:
1. Warangal Fort
At a distance of 5 km from Warangal Railway Station, It is believed the Warangal Fort has been in existence since the 13th century and was built under the rule of Kakatiyan rulers.  The fort was destroyed by many invaders and the ruins can be seen. The gateway built of two large stones, intricate pattern and Thorean architecture pulls in hundreds of tourists every year. The Fort speaks volume of the grandeur of Kakatiyan rulers.
2. Kakatiya Rock Garden
Animals created out of rocks are the main attraction of the Garden and the artificial waterfall gives the place a very interesting look. The peace and quiet of the garden is a huge attraction for tourists. It is a great place for you and your family to have a fun-filled day.
3. Eturnagaram Sanctuary
This wildlife sanctuary is one of oldest sanctuaries and a great place to visit for all nature lovers. Dayyum Vagu, a water source within Eturnagaram Sanctuary separates the sanctuary into two parts and provide shelter to a wide range of wildlife animals. The beautiful landscape and its flora and fauna make the sanctuary a peaceful hangout for families. The existence of tree fossils also lends some historical significance to the place. The sanctuary is beautifully maintained by the local caretakers.
4. Pakhal Lake
The amazing man-made Pakhal Lake was constructed by harnessing a small tributary of Krishna river in 1213 AD is both exotic and beautiful. The lake is surrounded by a wildlife sanctuary and one can spot a herd of deer, leopard roaming freely in the wild brings out the natural beauty of the surroundings. It is a great place where you can either have a great family picnic or have a romantic time with your loved one.
5. Thousand Pillar Temple
This beautifully constructed temple is a sight to be seen. Built by King Rudra Deva, a Kakatiya ruler, the temple is constructed in a star-shaped architecture is a popular tourist attraction. The temple also contains a beautifully carved giant monolith Nandi is seen connecting the shrines on the platform. The Thousand Pillar Temple is a popular tourist attraction and the worshipers come here to find peace and serenity.
6. Jain Mandir
Jain Temple of Mahavira is located in Kolanupaka village and its believed to be 2000 years old. The temple is beautifully decorated with images of Tirthankars, it is an important holy site for Jain pilgrimage. Lord Rishabha, Lord Neminath, and Lord Mahavir are the three main idols of Gods in the temple, called as Tirthankars. On both sides of the temple, there are eight idols of various other Tirthankaras. The stunning architecture of the Mandir gives it a mystical look. The inner section of the temple for regular visitors are not allowed and restricted for people with pooja cloths only.
Places to Eat
The city offers versatile food that is bound to satisfy your taste buds; some of the famous dishes include Dosa, Haleem, and Harees; it is also known for its mouthwatering curries. Some of the famous restaurants include:
Green Park Biryani House: Located in Postal Colony, Subedari, this is a casual place that offers the best biryani in town.
Bayleaf Multi-Cuisine Family Restaurant: It is a place where you and your family can have a great time; it is located on the first floor of Jakotia Complex.
Hotel Vaishnavi Grand: Located in Fatima Complex, the hotel offers both Chinese and Indian Cuisines.
Places to Shop
Indian Terrain: Located on Warangal Hwy, Kishanpura.
Jaya Poornima General Stores: Located on the Narsampet Road, opposite CB Church.
Maddox Mall Warangal: Located in Girmajiet.
Where to Stay
The city has many great affordable hotels some of which are:
City Grand Warangal: Location – SVR, Warangal.
Supreme Hotel: Location – Chowrasta Hanamkonda.
Hotel Grand Gayathri: Located opposite to Sunil Theatre on Station Road.
---
3. Bidar
147 km away from Hyderabad, Bidar is located in the northeast of Karnataka and the city's history dates back to third century B.C. The city's culture is rich with Islamic Indian traditions and customs. Early rulers of the region include the Bahmani Kingdom and BaridShahi Dynasty among others.
Places To Visit Near Bidar
Located on the mountaintop, the exotic and peaceful city of Bidar is known for its monuments, ruins, forts, tombs, and castles (mahals). Some of the main attractions include:
1. Bidar Fort
The fort was built during the reign of Sultan Alauddin Bahman when he shifted his capital to Bidar back in 15th. The beautifully constructed fort has much to offer such as the grand dewan, a museum showcasing the fort's history, a mosque, tombs of many sultans and a temple. A trip to the fort will show you the grandeur of how Brahmans lived.
2. Bahmani Tombs
There are around eight tombs of Bahman kings who were once the rulers of the city. The tombs are well preserved and an important part of the history of Bidar.
3. Chaubara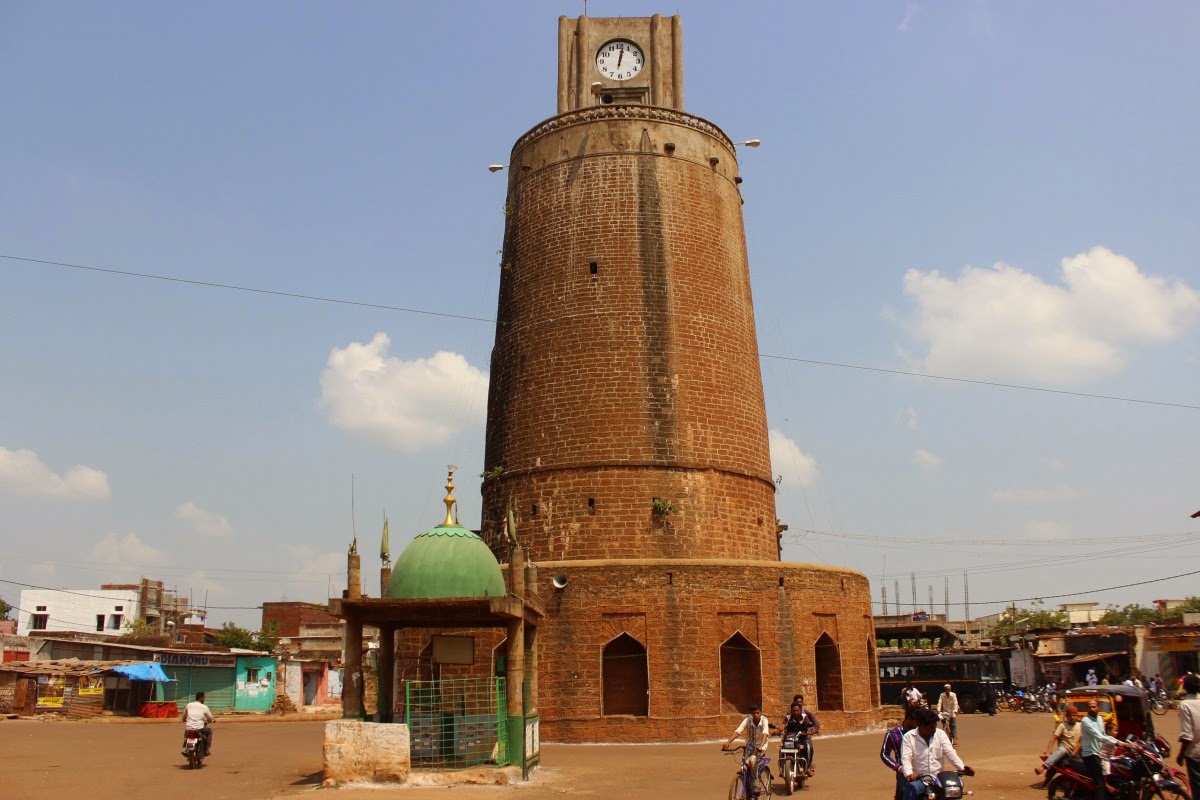 71 feet high tower shaped like a cylinder is a great tourist attraction in Bidar. You can get on top of the tower and enjoy a bird's eye view of your surroundings. You may have to pick the right time to visit the spot because it is built right in the center of one of the busiest roads in the city.
4. Gagan Mahal
Another creation under the Bahmani rule, Gagan Mahal is a grand architectural wonder. With its beautiful courtyards and queens' harem, the mahal (castle) will take you back in time. A walk through these courtyards will make you feel like royalty.
5. Tarkash Mahal
It's believed this Mahal was built for the king's wife who was Turkish, hence the name Tarkash. The architecture of the castle may be from two different eras; even though the castle itself may have been erected during Bahmanis' reign, but the upper part is believed to have been constructed during the Baridi rule. Both architectural styles combine to make an impressive site.
6. Solah Khamba Mosque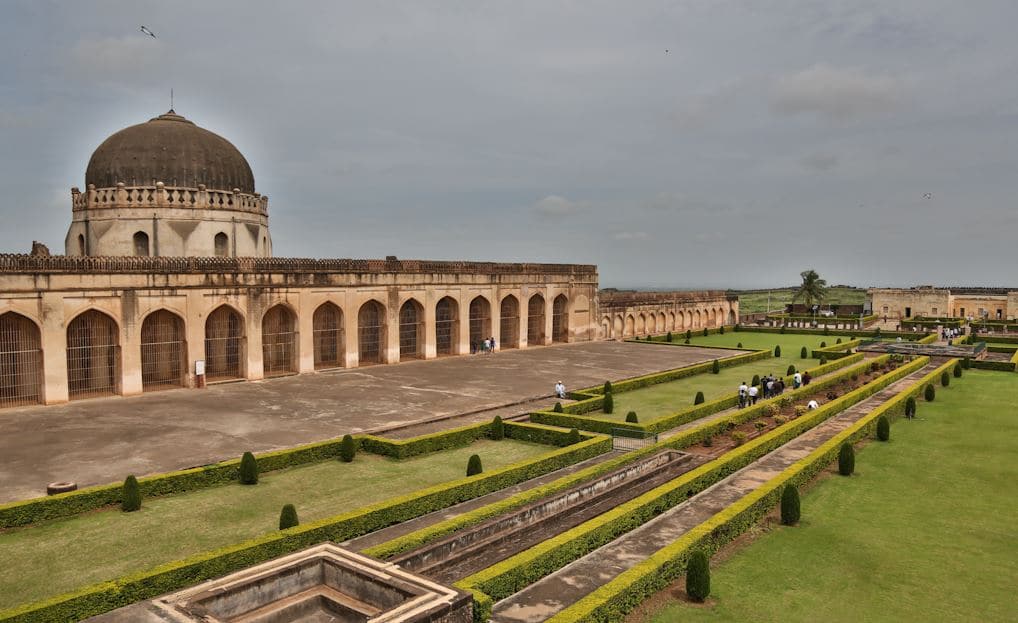 At a distance of 2.8 km from Bidar Railway Station, Solah Khamba Mosque is situated inside Bidar fort. Built in the 15th century by Qubil Sultani, the mosque has 16 pillars lined in the front of the structure that gave its name Solah (16) Khamba (pillars) is also known as Zanana Masjid. This is one of the biggest & ancient mosques in the city and attracts tourists who are looking to connect with their spiritual self.
7. Papnash Shiva Temple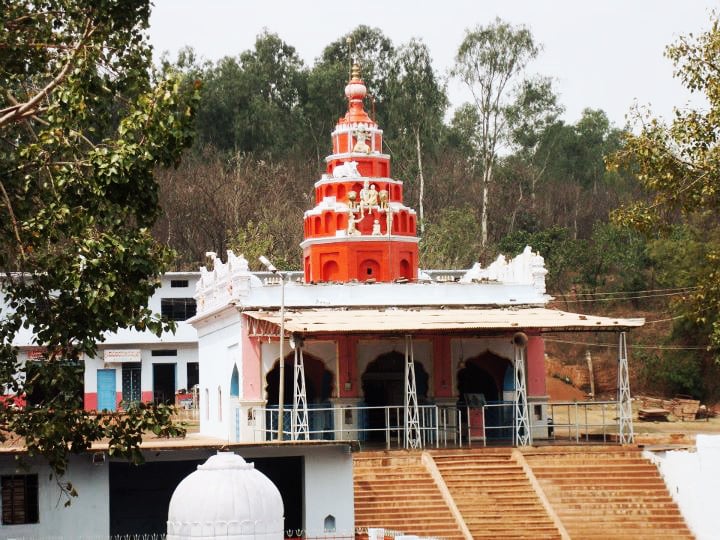 According to the myth, the beautiful temple was built by Lord Rama when he was coming back from Lanka. This is a holy place that is meant for prayers and worship. The original building of the temple did not survive the test of time; however, the new construction is also very popular. The temple has a pond at its bottom that gets water from a beautiful natural stream.
Places to Eat
You will find the best of South Indian cuisine in the region; rice, idlis, Vadas and Dosa are some of the specialties of the city. Bidar offers the best of both fine dining and street food. Here are some of the restaurants you can enjoy:
Laziz Pizza: Located in JBS building, the place offers delicious pizza.
Moti Hahal Hotel: It is a wonderful family restaurant located in Zion Colony.
Sri Siddhi Vinayak Darshini Udupi Restaurant: Located close to Ambedaker Circle, the restaurant offers a cozy place for families.
Places to Shop
Shaheen Ladies Shopping Center: Located at Darzi Gali.
New Kids Zone Bidar: Located at Old City Fort Area.
Easy Buy: Bank Colony and Devi Colony.
Where to Stay
Hotel Mayura: The hotel is located opposite the New Bus Stand.
BlackBuck Resort: Located close to Kapplapur in Mayor Vilaspur Tank.
Hotel Vikas Lodge: Located in Mohan Market.
---
4. Nagarjuna Sagar
It is located just 164 km away from Hyderabad and has a landscape that will make you fall in love with the city. Nagarjuna Sagar is built across the Krishna River and has a stunning water dam that gives the place a majestic look. The beautifully created town was once home to Buddhist civilization. The town was named after Nagarjuna Sagar, a Buddhist saint. The gorgeous man-made lake at the dam makes it a mesmerizing sight; something straight out of a fairytale.
Places To Visit Near Nagarjuna Sagar
A breathtaking combination of pure nature and man-made miracles has made Nagarjuna Sagar a favorite tourist spot. Some of the most visited and tranquil places include:
1. Nagarjuna Sagar Dam
A breathtaking site that is not to be missed; the Dam runs along Krishna River and its surrounding landscape has lush green. The best time to visit is in Monsoon season when all the 26 gates of the dam are opened, offering amazing views to capture when the water falling from a height of over 100 meters. It is a great place for a family's day out.
2. Ethipothala Waterfall
The stunning waterfall is composed of three beautiful streams namely Nakka Vagu, Tummala Vagu, and Chandravanka Vagu and has a crocodile breeding center. Tourists have to get down to visit the two temples dedicated to Ranganadha Swami and Dattatreya Swami at the foot of the waterfall. The peace and natural scenic beauty of the place is a favorite with both locals and tourists.
3. Nagarjuna Sagar Wildlife Sanctuary
At a distance of 57 km from the Nagarjuna Sagar, Nagarjunasagar Wildlife Sanctuary is widely known as Nagarjunasagar-Srisailam Sanctuary. The natural scenic beauty of this place will make you come back again and again. You can meet many different and unique bird and animal species and enjoy the peace and quiet of the place.
4. Nagarjunakonda Museum
Located at a distance of 23 km from Nagarjuna Sagar Bus Station, Nagarjunakonda is a wonderful tourist destination. Relics obtained from different excavations are kept in this museum, which would tell you the story of this city's history and the existence of Buddhist in the area.
Places to Eat
Nagarjuna Sagar is famous for its very own and authentic Andhra cuisine; a few of the mouthwatering restaurants are:
APTDC Restaurant and Bar: Located in Hill Colony, this place is great for food and drinks.
Dhaba: It is perhaps the most popular eatery in the area.
Hotel Swgath East Court: Located in Raghavendra Colony, this restaurant is famous for its Biryani and other authentic Indian flavors.
Places to Shop
Sree Tharakarama Commercial Complex – Located on Nagarjuna Sagar Road.
Bhavani Mega Shopping Mall: Located next to the New Bus Stand in Ibrahimpatnam.
Where to Stay
Budget hotels are extremely easy to find in Nagarjuna Sagar, some of them include:
TSTDC Resort Vijay Vihar: Located in Nalgonda District, Hill Colony
Nagarjuna Sagar Resort: Located in Hill Colony
---
5. Srisailam
Running along River Krishna, the sacred town and temple of Srisailam is located 213 km away from Hyderabad. History of this exotic town goes back 30,000 to 40,000 years and can be traced back to the first ever South Indian empire builder Satavahanas.
Places To Visit Near Srisailam
This small town with its picturesque landscape is both exotic and peaceful. The hills of Srisailam have well-preserved wildlife and mesmerizing greenery. It is ideal for those who want to enjoy peace, calm and do nothing but relax. The place will help you get in touch with your spiritual self. Some of the must-visit places include:
1. Srisailam Dam
This beautiful dam took 20 years to complete when it started in 1961 and was opened in 1981. The dam runs along Krishna River and is surrounded by a lush green landscape. Monsoon season might be the best time to experience & capture some wonderful viewpoints on both sides of the dam when all the gates are open. At night with the stars in the sky and all its lights on, the site is breathtaking. It is also the second biggest hydroelectric station in India.
2. Srisailam Tiger Reserve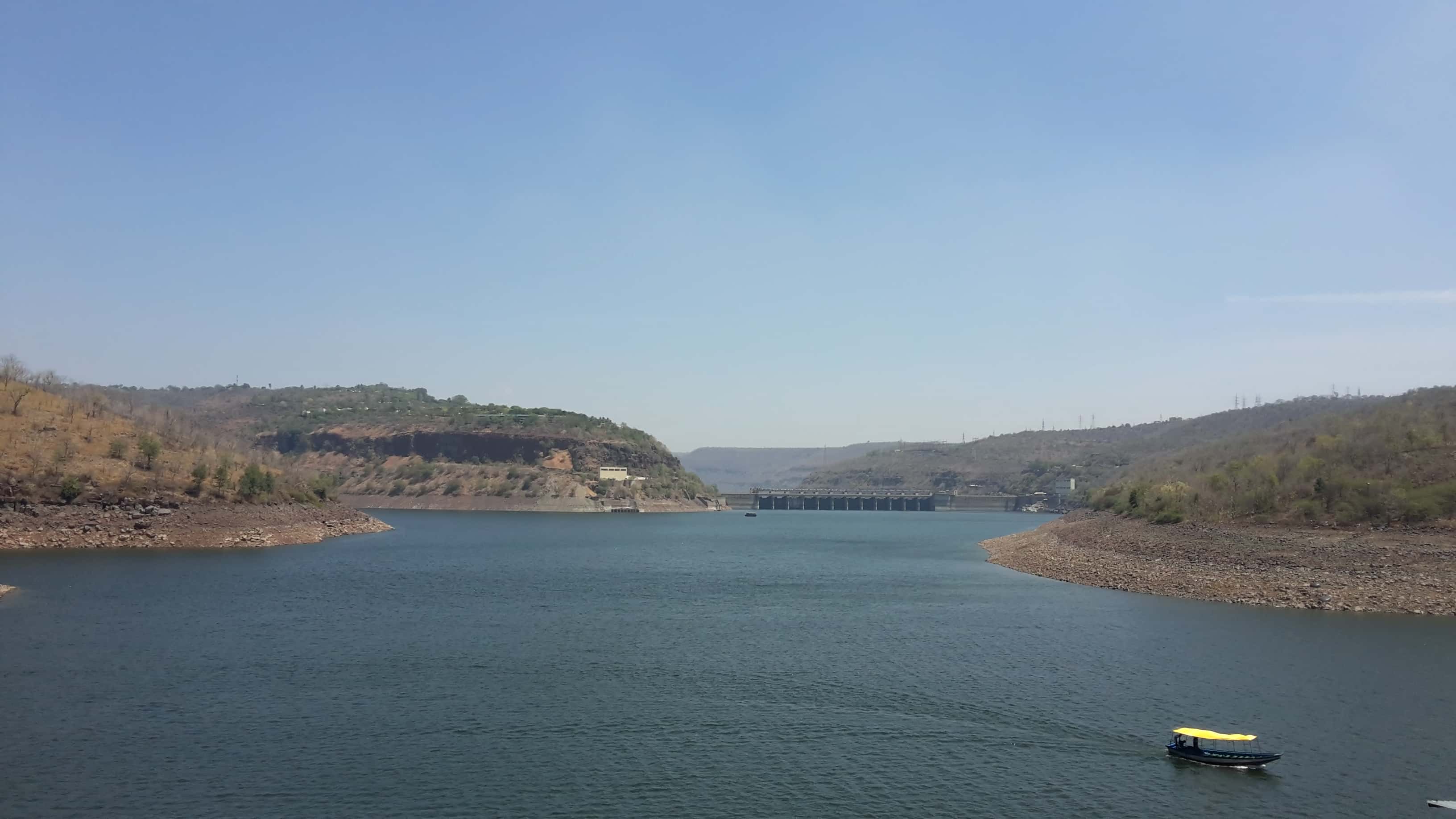 This place is not for the faint-hearted; the Tiger Reserve is a paradise for adventure lovers. The Reserve is naturally blessed with scenic beauty, which includes forests, a wide range of wildlife animals, valleys, streams, and beautiful winding roads.
3. Patala Ganga
At a distance of 1 km from Srisailam Malikarjuna Temple, Patala Ganga is a popular place to visit for the best views of River Krishna. Linked to River Krishna, Patala Ganga is a sacred spot where both locals and tourists come to experience spirituality and peace. The view from this spot is nothing short of spectacular; you can see the green and dense Nallamala Forest on the beautiful mountains. Ropeway and Boating are the two breathtaking experience to view the Srisailam Dam & the surroundings.
4. Akka Mahadevi Caves
If you are a daredevil these caves are where you need to go. The ride to these caves is an adventure in itself; after crossing Krishna River on a boat and going through beautiful forests you will reach these magical caves and reach Shiva Linga. These caves are deep and dark, remember to carry torch lights.
5. Chenchu Lakshmi Tribal Museum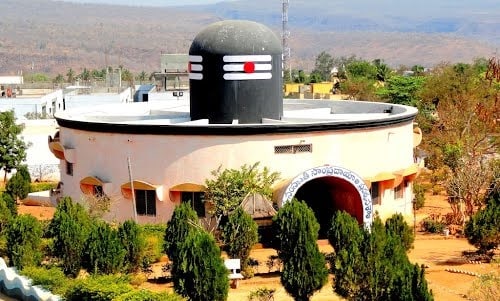 If you are interested in finding out about Andhra Pradesh tribes then you must visit Chenchu Lakshmi Tribal Museum. One of the best things and a must-buy is the honey collected by these local tribes; it is quite a popular item and sells like hotcakes among both tourists and locals.
Places to Eat
Srisailam is a vegetarian's paradise; since the town is considered holy therefore most of the cuisines have vegetarian food. You can enjoy both the restaurant style food and street food. Some of the must-visit restaurants include:
Hotel Apoorva: Located close to the petrol bunk, this restaurant is great for families.
Trishul Restaurant: This is a casual restaurant for families, which is located in MalikarjunaSadan Complex.
Apple Family Restaurant: Another great eatery for families, which located close to Ring Park Center.
Where to Stay?
Some of the best affordable accommodation includes:
Vasavi Satram
Chandeeswara Sadan 
Kakatiya Kamma Satram
Krishna Devaraya Kapu Satram
Once you start your exploration of South India with the beautiful and historical top 5 places mentioned in this article, we are sure you will not be satisfied with just these five weekend getaways around Hyderabad. Remember, great memories are made when you plan the right to the right destination and India has many!